Forth Valley Smile Design
Family Dental Practice and Facial Aesthetics Clinic
Alan's Treatment Blog
Treatment Started : 29/10/13
Before treatment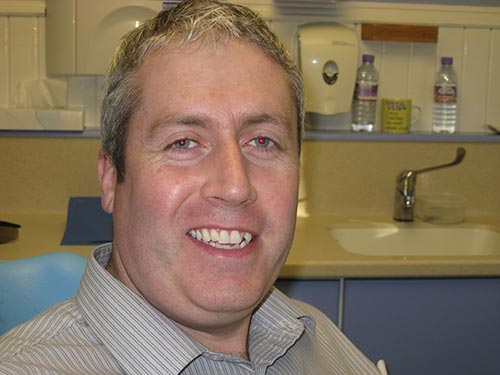 Brace fitted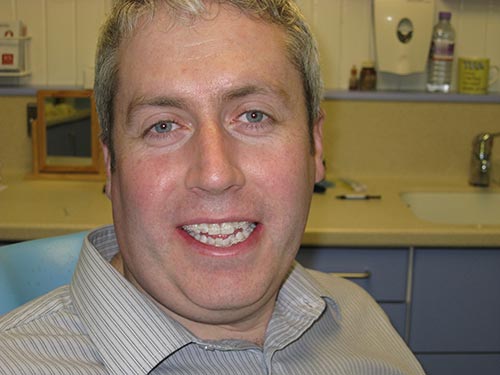 Month One
"Six month smiles is a fantastic solution for realigning my teeth. Overall I have had a good experience with the first month of having the six month smiles brace fitted. The first 4 to 5 days I had a little bit of discomfort with the initial pressure on my teeth but this soon went away. Initially I was brushing my teeth very gently but soon I regained the confidence to brush my teeth normally without dislodging any of the brackets and they have proven to be very strong and resilient for normal day to day use. One of my main concerns with getting my teeth realigned was how it would affect my speech, but with six month smiles process I have had little or no effect on my speech with everybody I meet on a day to day basis not noticing I have them at all, and many of my close friends and family not noticing I've had them fitted until I mention it to them. By the end of week 2 I had totally forgotten that I have the six month smile fitted and am now looking forward toward the end result."
Half way there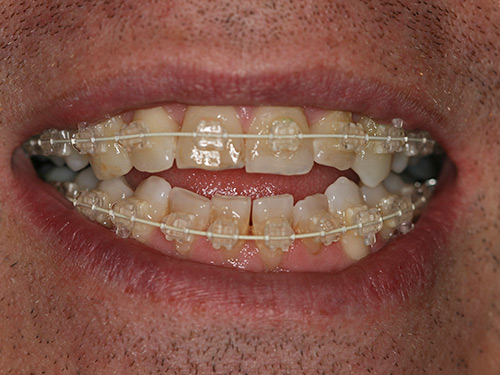 That's me at the half-way point in my treatment already.
I've more or less forgotten they are there for the most part of each day, only remembering at meal times when I really fancy and crusty baguette or a fillet steak, but at least I know what my first meal will be once they are removed. After my last wire change at the end of January I felt the usual increase in pressure, but no pain or discomfort. It's also nice to have the bands replaced as they can get stained during the month, thankfully though I haven't noticed them get too bad despite the odd chicken tikka masala. I have a couple of brackets that rub occasionally on my lip and can cause a little blister, although this only happens if I forget to put a bit of orthodontic wax on them.
So far I'm really pleased with the results and have noticed the difference in my teeth, which friends and family have been pointing out for weeks which is great.
Read our other blogs :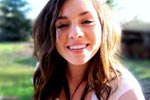 374 Main Street
Stenhousemuir
FK5 3JR
01324 552892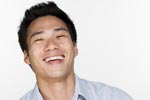 6 Weir Street
Falkirk
FK1 1RA
01324 621495