Forth Valley Smile Design
Family Dental Practice and Facial Aesthetics Clinic
Lorraine's Treatment Blog
Treatment Started : 14/11/13
Before treatment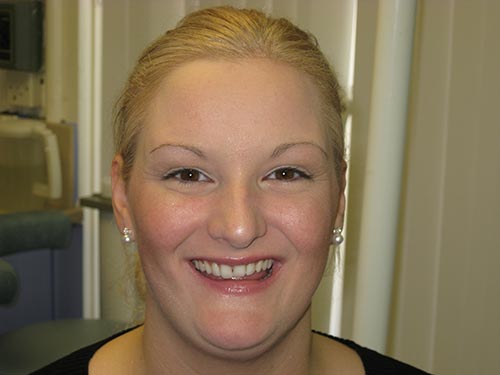 Brace fitted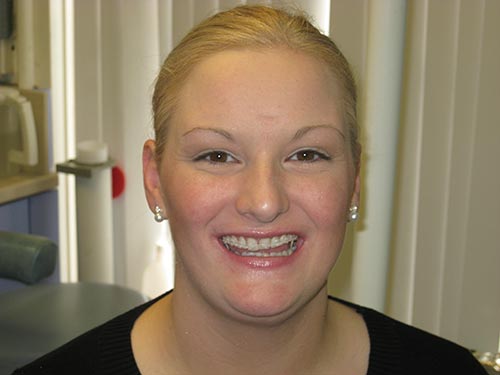 Month One
"Wow - looking at the run of my teeth in that first picture I wish 6 month smiles had been around much sooner! I was really excited to get my braces on and the actual event of braces on turned out to be a bit of a non-event. By this I mean there was no pain at all which was great for me considering I am the biggest coward at the dentist. Just remember to put plenty of Vaseline on your lips beforehand because they will get stretched out a bit.
Later that night I started to feel the pressure on my teeth. I had used elastics straight away too. It didn't feel like a normal toothache like when you have a cavity - more like how I would imagine a teething child would feel, gum pain. I took this as a good sign that the braces were obviously working. The inside of my bottom lip and cheeks did get rubbed sore a bit by the brackets and elastics but I found this amazing stuff called frador (available from amazon). Its a red liquid you apply to the sore area with a cotton bud and it coats it instantly like a plaster. Brilliant stuff - I totally recommend investing in something like this if you have the braces fitted. I didn't really like the way the wax felt. It did stop the rubbing but it melts and moves around your mouth a bit. I ended up inadvertently swallowing some - luckily its non-toxic. I used the frador instead and let my lips and cheeks get used to the brackets and elastics - which within 2 weeks they had. The initial discomfort reallly does go away and just remember to keep your eyes on the prize! Its lovely straight teeth you're after - the teeth do actually have to move.
For the first couple of days I ate a soft/liquid diet i.e. soups and scrambled eggs. I had bite guards fitted to my front teeth which meant my back teeth didn't meet and so I couldn't chew properly. I can assure you where there's a will there's a way! Its amazing how quickly you get used to the braces and learn to adapt. Im now into month 2 of my treatment and I had a lovely lamb dinner earlier (and a glass of red wine -but don't tell my dentist). I've discovered that you can have some of the things you're advised not to such as tomato soup and red wine as long as you don't have them too often (we're only human after all!). Just remember to brush your teeth straight after to minimise the staining. The doughnuts (the little elastic bands that hold the wire onto the brackets) did become a little yellowed but not as bad as I had imagined they would. I had my first wire change last week and that went without a hitch. All my doughnuts were changed and they are looking shiny and white again. This is good to know - even if they do stain a little - you get them changed every 4 weeks so they wont be stained for long, so don't be too scared to have some of the things you feel you couldn't go with out. Just remember not to eat anything to hard because that WILL knock one of your brackets off. Don't be scared to get stuck in with your toothbrush when you brush your teeth - brushing around and over the braces wont dislodge them (unless you continuously knock the plastic bit of your toothbrush against them - in which case you're brushing your teeth wrong!) Let the bristles get into all the little spaces - the braces are stuck on there really well and brushing wont knock them off.
At the start of month 2 I'm already starting to see my teeth move and this is keeping me motivated and excited to see my final result, which, at the end of the day, is what it is all about. So far I have no regrets about having 6 month smiles braces fitted. Go for it - what have you got to lose (except your crooked teeth!)
Until next time..."
Nearing the half way point
Well it's the last week of January so I'm nearly at the half way point. I'm on my third wire now and it's thicker than the one I wore for the first two months. I'm actually finding the braces very comfortable now and didn't experience any discomfort going up a wire size, which surprised me - albeit pleasantly.
The only problem I still seem to occasionally get is an ulcer on my bottom lip but this clears up quickly with the frador (see my last post for more info on frador). I can really notice a difference in the shape and position of my teeth now. My front teeth were originally quite pushed back and they have now come forward which is very reassuring that the treatment is working.
I'm completely used to what I can and can't eat now and to be honest there's not too much I can't eat at the moment. The only "accident" I had was a microwave pizza which was brick hard (although it did start out soft but this was after a couple of whiskies and I didn't notice - or care - that is was solid as a rock - I'd cooked it I was eating it!) Big mistake - I broke off one of my bottom brackets - oops! I was due a wire change that week anyway so it gave me a couple of days to come up with my best excuse to give Gillian. Slipped coming out the shower or maybe hit in the face with a tennis ball. Decided it was best just to 'fess up. It wasn't a problem and Gillian fixed it very quickly when she was changing my wire. I'm now a little more careful about what I eat after a little drink.
All in all I'm very happy with how my treatment is going and still have no regrets over having the braces fitted. Until next time...
Read our other blogs :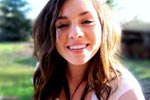 374 Main Street
Stenhousemuir
FK5 3JR
01324 552892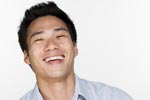 6 Weir Street
Falkirk
FK1 1RA
01324 621495